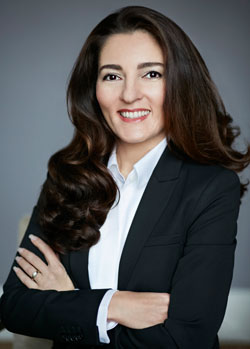 Prof. h.c. Dr. Chirine Etezadzadeh
Founder and President
The Institute
Join us on the journey down the road to the future!
The SmartCity.institute conducts research on the topic of cities of the future.
Our work focuses on the fields of energy, mobility and urban development while
also addressing overarching issues such as digitization, sustainability and resilience.

The SmartCity.institute was founded in the summer of 2014 by Prof. h.c. Dr. Chirine Etezadzadeh. Its purpose is to serve as a research platform for the interdisciplinary exchange of knowledge between academia, municipalities, and the corporate sector.

In addition, the institute provides consulting services for cities and industrial enterprises regarding their path to the future. Core services are provided in the fields of vision and business development as well as in designing customer-focused products and services for an urban context.

Furthermore, the SmartCity.institute builds networks to promote the intersectoral exchange of knowledge and cross–industrial collaboration in order to support the creation of real smart city solutions. The institute's SmartCityNews.global platform – the global smart city knowledge base – pursues the same goal. This free service platform compiles articles on urban issues and cross-sectoral information regarding projects, solutions, people, events, and much more. The SCN City Forum welcomes cities around the world to present themselves and exchange ideas. They can report on their activities, raise questions and share their experiences in this forum. You can find additional information at www.SmartCityNews.global.

Please feel free to contact us if you would like to exchange ideas with us.
We look forward to hearing from you.


Founding of the SmartCity.institute in 2014

Prof. h.c. Dr. Chirine Etezadzadeh (economist) is a lover of learning who enjoys passing on her knowledge. That is why founding the SmartCity.insitute was a logical step for her. As a strategy consultant, she provides practice-oriented consulting services based on scientific research, while continuing to engage in research activities together with her network.

Over the past several years, the topic of future cities has become one of Prof. h.c. Dr. Etezadzadeh's major areas of expertise, which is a field requiring much further research. Since cities face enormous pressure to act, resulting in an effort by businesses to find solutions, the topic of smart cities has become hugely popular. It is necessary to encourage stakeholders in various sectors, industries, and disciplines to discuss this issue and to integrate their contributions in order to find holistic solutions for livable cities.

At the SmartCity.institute our goal is to help solve these pressing problems. The publication titled "Smart City – Future City?" that has been published by the Springer Vieweg Publishing House provides an initial overview of the institute's work. In order to spark the interest of the next generation of stakeholders in
this topic, Prof. h.c. Dr. Etezadzadeh holds interdisciplinary lectures on the subject of "product development for smart cities" at the Technische Hochschule Köln.